Export Intricately data for the accounts you're interested in! You can export data for any lists created in Intricately, allowing you to download an Excel file with the Intricately data for companies included in the list.
Read on to get started:
How to Export Data
You can export data from any of our lists. Follow the links to learn more about exporting each list type:
Exporting a list will generate an Excel file with the Intricately data for the companies in the list. We'll notify you as soon as your download as finished generating:
You'll receive a notification email.
The Export Manager in the web app will update:
Once your export has finished generating, you can download the Excel file by clicking the download link in the notification email or in the Export Manager.
Note that exports will be stored for 30 days, after which they'll expire. You'll then have to generate a new report to get refreshed data.
Export Limits
Exports are metered according to your Export Credits. Whenever you export a list, you'll consume export credits equal to the number of companies in your list. For example, if you export a Smart List containing 50 companies, you'll consume 50 export credits.
Once you've consumed all your export credits, you won't be able to export any additional data until your credits are refreshed.
Interested in higher export limits? Contact us to discuss our Enterprise plans.
You can check your export credits status at any time by reviewing the Plan Limits section in the web app sidebar. This section will display:
Your total export credits limit
The number of export credits you have remaining
When your credits will refresh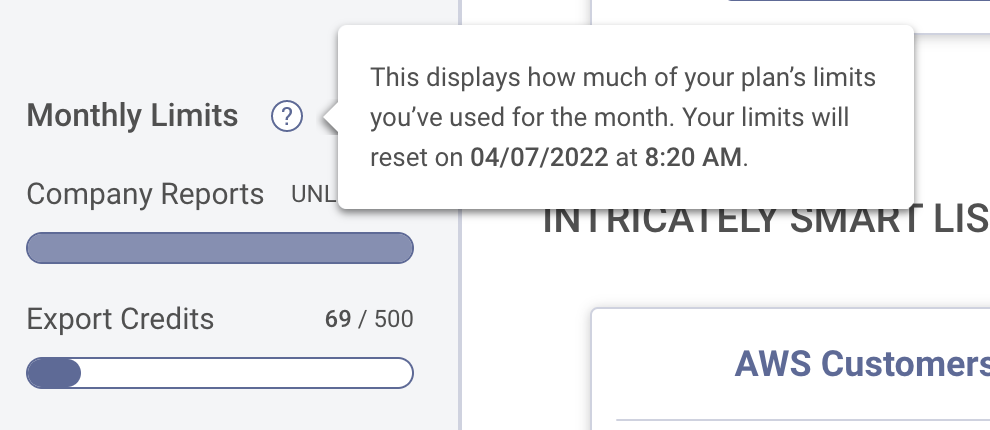 This example shows a user who has:
A limit of 500 export credits per month
With 69 export credits remaining
Whose credits will refresh on April 7, 2022.