Smart Lists are a powerful tool for building lists based on your criteria & Intricately's data.
Use Smart Lists for:
Building your target account list

Finding accounts in your territory

Targeting companies based on competitor usage

Targeting companies based on renewal dates
Here are a few example searches:
Companies using a CDN service and based in Utah

Companies spending more than $100,000/month on infrastructure

Automotive companies using Amazon CloudFront and Salesforce

Companies renewing AWS in Q4
This guide covers:
Creating a Smart List
1. Create a Smart List
You can quickly create a new Smart List by:
Clicking the plus (+) icon in the sidebar
Or clicking "CREATE SMART LIST" on the Smart Lists page
clicking the plus icon in the nav on the left of the screen. You are also able to create a new Smart List from the My Smart Lists page.

2. Add Rules
Click Add Rule to start adding filters. There is no limit to the number of rules you can add.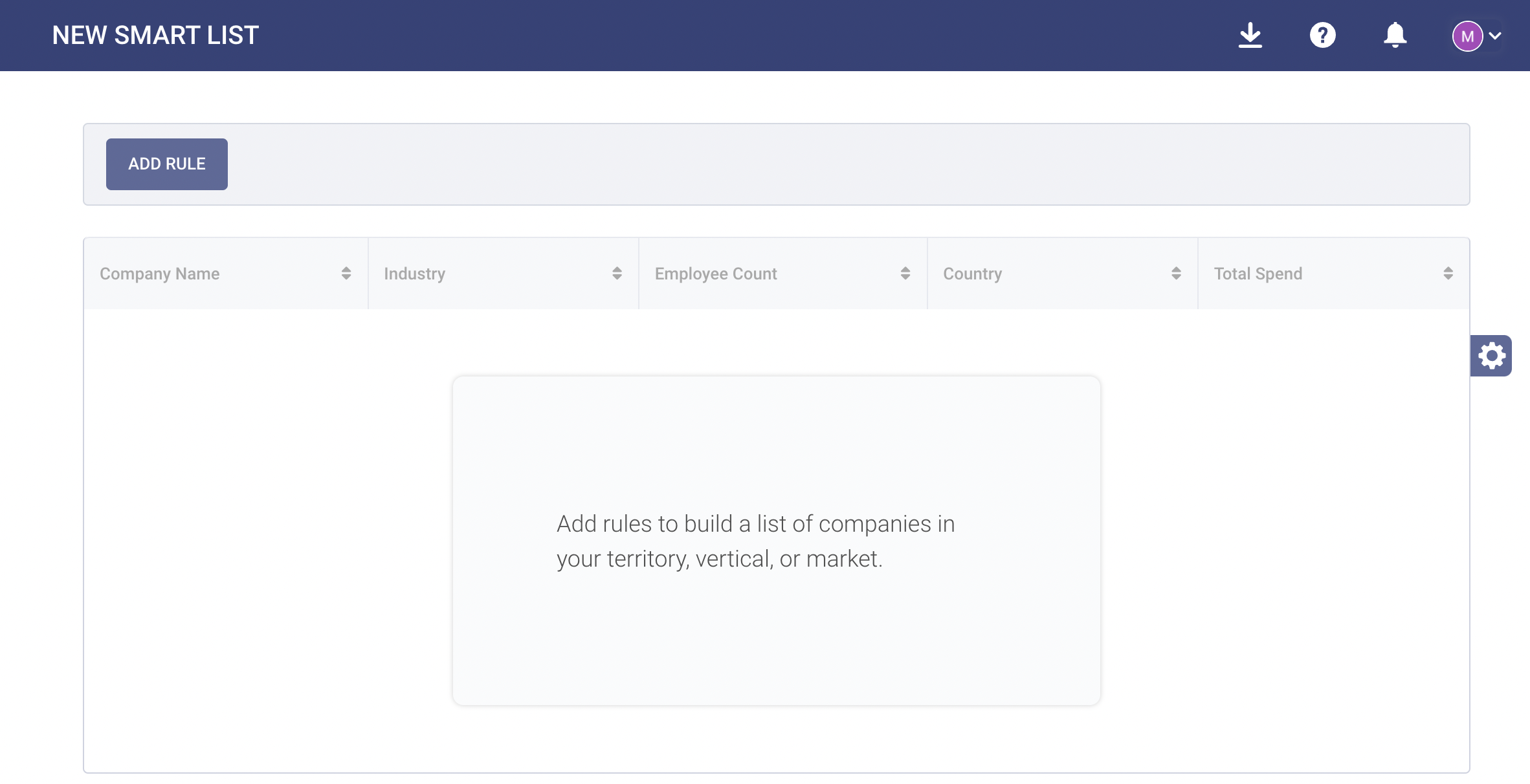 3. Save Your Smart List
Once you've added at least one rule, click SAVE SMART LIST to save your Smart List.

This will save your selected rules, and allow you to export the list.
Editing a Smart List
You can edit a Smart List at any time. All you need to do is open a previously created Smart List.
Changing Smart List Info
You'll be able to:
Add, remove, or update any of the rules you've included
Rename the Smart List by clicking the pencil icon to the right of the name. All you need to do is open your Smart List, and you're free to add, remove, or update any rule you've included.
Any changes you make will be saved automatically.
Changing the Smart List Table
You can edit what columns are displayed in the data table in the app by clicking on the gear icon on the right. You also have the ability to limit to these columns while exporting your Smart List.

Understanding Smart List Rules
How to Target by Product Spend or Renewal Date
If you're interested in filtering your list by spend or contract renewals for a specific product, you will need to use our secondary filter options:

To use secondary filters:
Add one product as a rule (such as AWS EC2)

Locate the filter icon to the right of the rule after you've added it.

If you want to filter by spend: select Product Spend to filter by spend amount

If you want to filter by renewals: Select Contract Expiration, the select the Approximate Contract Length.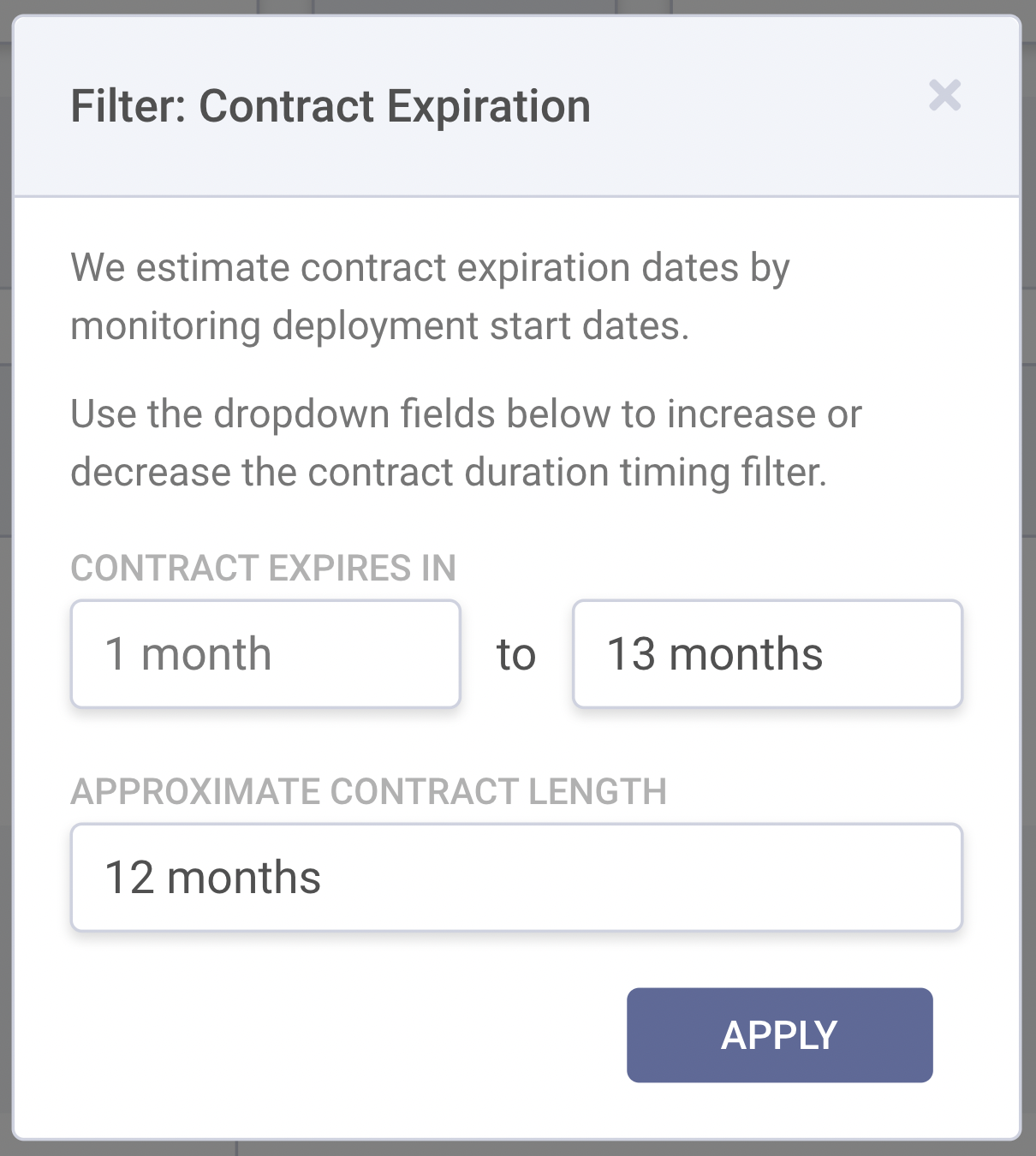 Rule Definitions
Please Note: Available Smart List rules vary by plan. Categories marked with a * in the table below are only available for Enterprise users.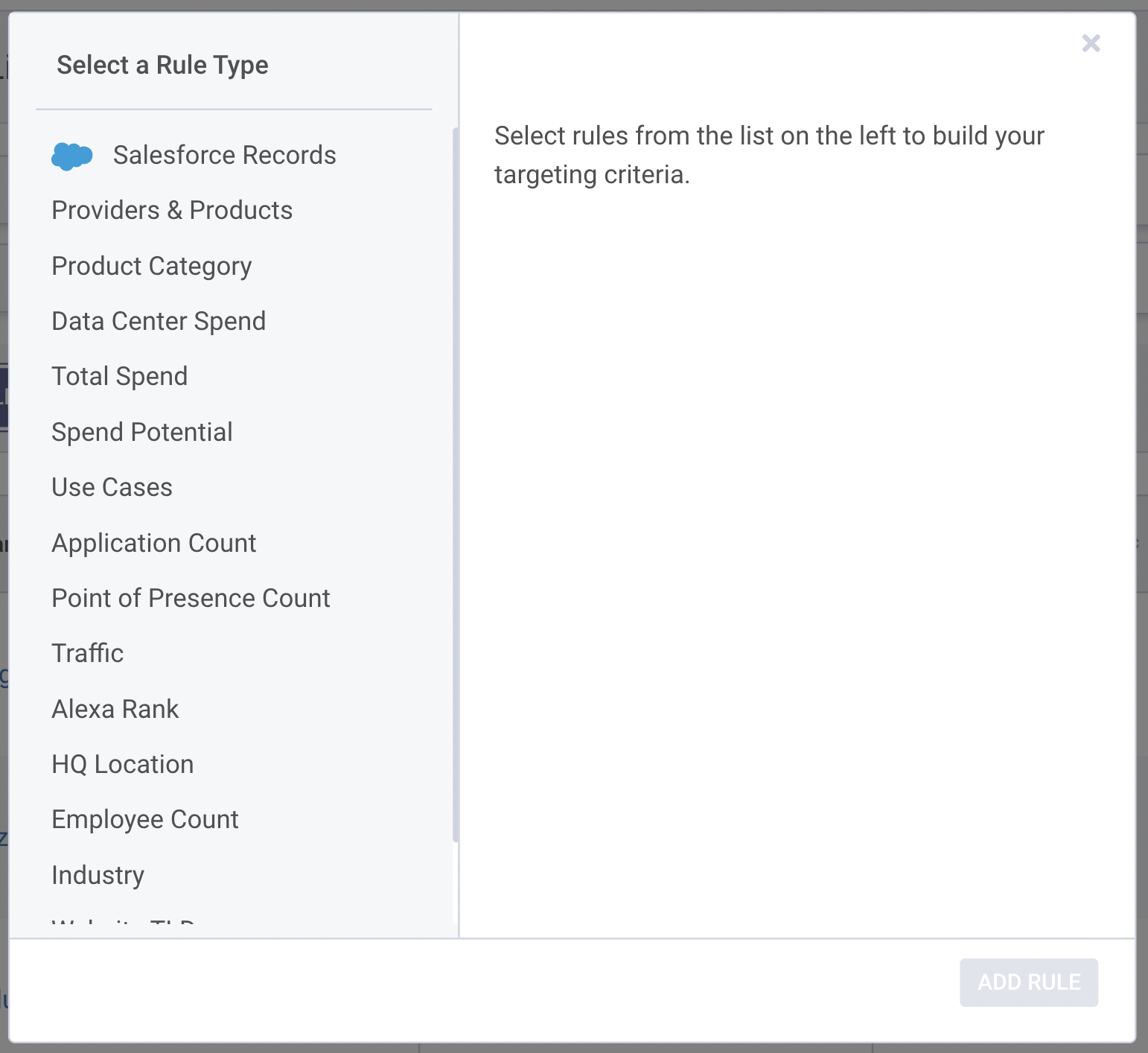 Filters

Definition

Products & Providers

Filter by product adoption (EC2, Salesforce) or Provider (AWS or Google).

*Note: If you choose a provider, it will include all deployments. For example, if you choose Microsoft, it will include Azure and Office.

Product Category

This filter allows you to target companies based on a general level of spend. For example, you may want to target companies that spend on CDN and you don't care about the specific provider.

We track eight different categories. Here is a link to see them.

Data Center Spend*

Use this filter to target companies based on their spend on-premise. This will include self-hosting on-premise spending.

Total Spend

Total Spend includes all monthly cloud spend estimates. The overall spend number that you're used to seeing at the top of a company report. Here is an article on how we track spend.

Spend Potential

To calculate spend potential, we analyze a company's cloud and its firmographic size and then compare it to similar companies. We utilize machine learning to improve and evolve our estimations.

Use Cases*

We're able to identify if a company has a specific use case based on their deployment preferences. A few example use cases are: security, video, streaming, Big Data, etc.

Use Cases act like a tagging system. If a company deploys a video product such as Ooyala, then they have a use case for video.

Application Count

You can target a company based on the number of applications that they support. This is very helpful if you're looking for complex organizations or potential companies that have DevOps teams. Typically, the higher the app total equals higher spends.

Points of Presence Count

Intricately is able to identify the number of physical Points of Presence (PoPs) a company has. Use this filter if you're interested in targeting companies with distributed infrastructure.

Traffic*

Our sensor network monitors traffic distribution for all 7M companies. With this filter, you can target companies based on their traffic within a region, country or state.

Alexa Rank

Alexa rank is an industry-standard for a website's traffic. It is a global ranking system that ranks millions of websites in order of popularity.

It's calculated by looking at the estimated average daily unique visitors and number of page views for a given site over the past 3 months. For example, Google and Facebook rank first and second respectively.

HQ Location

The headquarters location for the company. We group the common regions around the globe for you. Target by region, country, or state.

If you're looking for states, select United States to see state options. States are not available in the free plan.

Zip code and City filters are not available in Smart Lists - but you can use Imported Lists.

Employee Count

Pick a range of employees to narrow down your results.

Industry

The industry category is a perfect way to narrow down a vertical.

Website TLD

The website top-level domain is a great way to target companies that don't rely only on .com. Use this for specialty companies like .tv or even global companies like .ru.
Exporting a Smart List
Once you've saved a Smart List, you can export the matching list of companies.
1. (Optional) Select Products or Providers you want to include data for
By default, we'll always include data for the Primary & Secondary products in each Product Category. However, if there are specific Products or Providers you're interested in, you can select them to ensure that they appear in your export file:
Click the Select Products button. Using the search bar, add the products and providers you would like to see data for, and then select Save.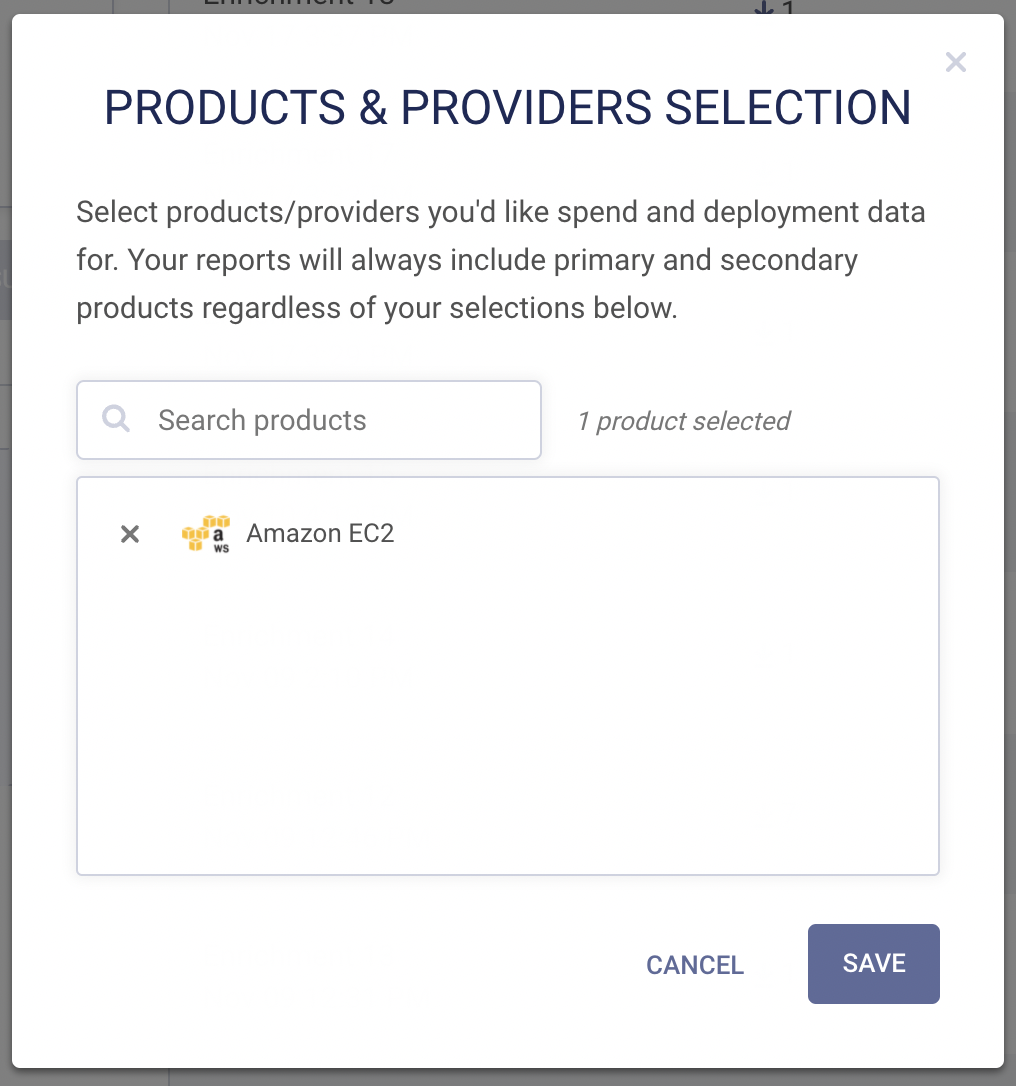 All subsequent exports will include data for the products & providers you've selected. The exact fields included will depend on your selections and the data included in your plan:
| Field | Available for Products? | Available for Providers? | Required Data Edition |
| --- | --- | --- | --- |
| Spend Tier | ✔ | ✔ | Base |
| Detailed Spend | ✔ | ✔ | Detailed Spend |
| Deployment Date | ✔ | x | Historical |
You can edit your product & provider selections at any time! However, note that any changes you make will only take effect on the next export.
2. Export your Smart List
Once you're ready, click EXPORT DATA to initiate the export. This will open a confirmation modal where you can set your export settings. You can choose to:
Configure the columns in the export:

Export your list as is
Export only columns you've selected (this includes columns in the Smart List table in the app, plus any Products or Providers you've selected)

[If your team has an Enterprise license with an active Salesforce Connector integration] Filter the export to only include companies that are not yet in your Salesforce CRM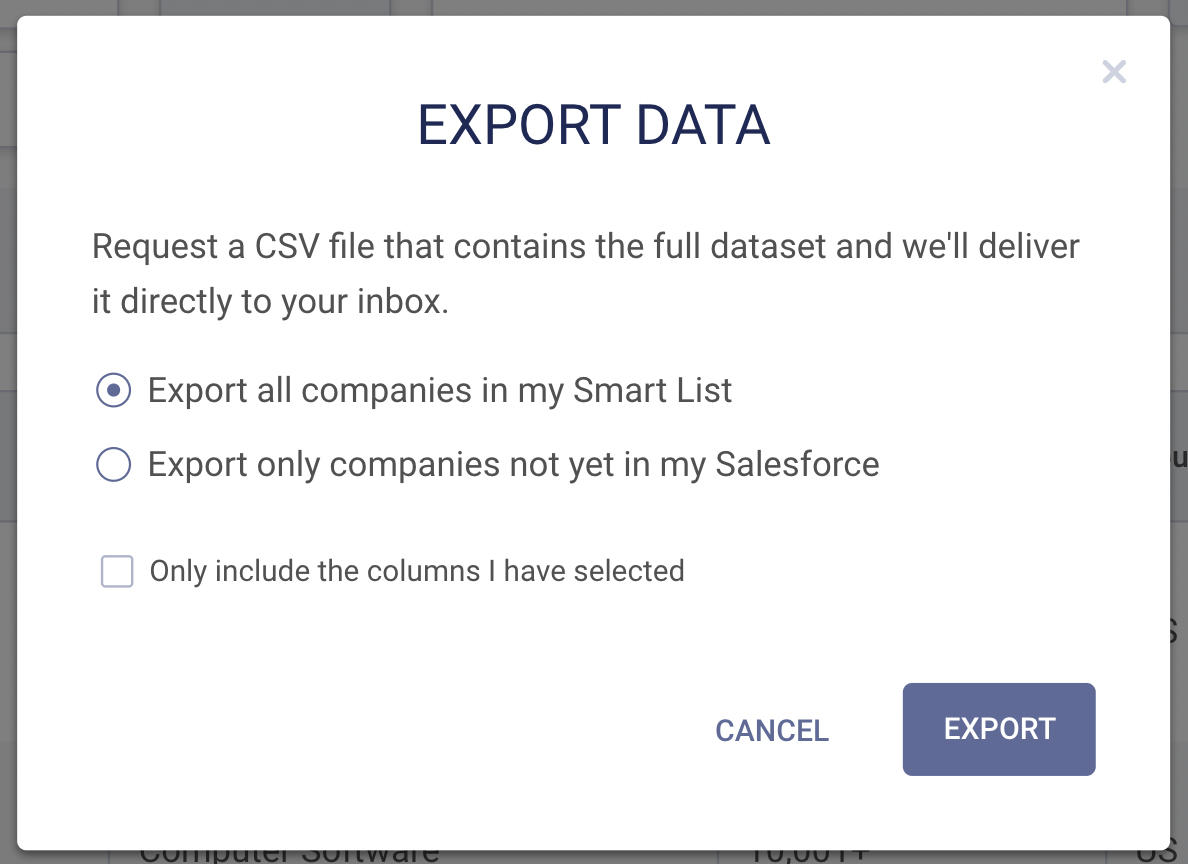 Getting Alerts and Tracking Changes
Once you've set up your Smart List, you can also subscribe to alerts to automatically receive notifications when companies are added or removed from the list! Check out our article on How to Track Competitors & Be Alerted to Changes to learn more.